Overview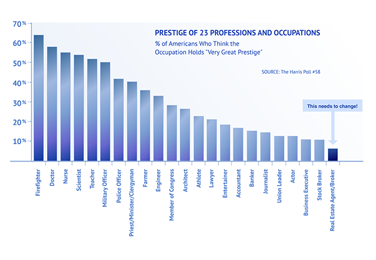 What do Apple, Nike, Nordstrom and other trusted brands have in common? Instant credibility. Just the mention of these trusted brands means something special. For the many consumers who view real estate agents as all the same, selecting a real estate agent has never been an effective or rewarding process.
The Top 5 in Real Estate Network® was formed in response to the need to change the negative or indifferent perception that many consumers have regarding real estate agents. Top 5 in Real Estate will, for the first time, dramatically differentiate and distance the 'top' real estate agents from others who are not as skilled, professional or dedicated to their clients.
At Top 5 we are confident that consumers, especially in today's more transparent marketplace, will embrace the opportunity to learn who the most proficient real estate professionals are. The Top 5 in Real Estate Network provides an instantly recognizable brand and brand promise, enabling consumers to immediately identify those real estate agents who are among the most experienced, skilled and results-oriented in the marketplace. At a time when too many real estate agents are marginalized by other media and consumers alike, the Top 5 in Real Estate Network® elevates the professionalism of its members by allowing them to stand out.
By joining this unique real estate network, you are signaling to consumers that you have earned elite status within your profession. Consumers will take note that membership is reserved for only those North American real estate agents who have satisfied five "consumer-valued criteria."
RISMedia's Top 5 in Real Estate is committed to working with you in strategically and relentlessly conveying to consumers that any and all of their real estate needs can and should be managed by our members.
Specifically, as a member of the Top 5 network you will now begin immediately enjoying the benefits of an all-encompassing, real estate credential that goes beyond any one course or singular achievement, a credential that will be instantly embraced and understood by consumers-a credential that will finally allow consumers to easily differentiate leading agents from the rest. And what's best of all? It's a credential that only a small percentage of real estate agents can have.
The investment required to become a Member of Top 5 is just $2,297 per year, or, if you would prefer to pay monthly, it is just $225 per month. As a Top 5 member, you will receive all of the following benefits:
The power of the Top 5 brand
Recognition as one of the Top 5 percent of real estate agents
RISMedia's exclusive and extensive consumer content for Top 5 members, created to populate your website with rich, relevant real estate information to share with your clients
A multimedia PR and marketing kit that will provide you with print and online press releases as well as direct marketing campaigns to promote your membership in RISMedia's Top 5 in Real Estate Network®
Inclusion in the Top 5 in Real Estate online directory, also featured in Real Estate magazine
Member press releases distributed to a vast network of international, national, state and local media outlets, introducing you as a credible source of real estate commentary
Brainstorming, masterminding and member-to-member networking provided by the Top 5 Institute
World-class marketing pieces and DVDs for consumers on such timely topics as FSBOs, expireds, selecting the right real estate agent
And much more! To read more about the many benefits of membership in Top 5, please click here: Membership Benefits
Our exclusive membership website offers a wealth of information about the Network, including topical articles, membership videos, frequently asked questions and answers, a member directory and information about our exclusive Top 5 in Real Estate® training institute. You will also find password-protected links to digital versions of the content contained in your Welcome Kit, including the exclusive Top 5 consumer information that will be branded to you moving forward and the Top 5 "Value of Membership" brochure, where you can learn the many details and benefits of membership in Top 5.
As a new member, if you haven't already, you will soon be contacted by a Top 5 in Real Estate Member Services representative who will explain how the program will operate and what you can expect in the coming months. Top 5 will work with you hand-in-hand to ensure you are maximizing your Top 5 in Real Estate membership.
Congratulations on joining your fellow leading agent peers in RISMedia's Top 5 in Real Estate Network®! Please take a few moments to look through our exclusive new site built just for our members. We look forward to helping you reap the rewards of Top 5 by becoming even more valuable to consumers and clients. Although our over-arching premise in creating the Top 5 Network is captured in our slogan, "consumers deserve the best", we are pleased that his can only be accomplished through our members.